POOLED SURVEILLANCE TESTING
Ultra-Affordable Pooled Surveillance testing with the Ease of a Mouthwash.
For schools to return to on-site classes in the era of COVID-19, grouping tests into pools for surveillance is a common-sense approach. PathogenDx offers a turnkey regimen to detect the SARS-CoV-2 virus as well as influenza—and it's as easy to use as a mouthwash. Let us explain an early warning system that's safe, proven and can fit within school budgets.
NOTE: POOLED SURVEILLANCE TESTING DOES
NOT
PROVIDE INDIVIDUAL RESULTS AND IS NOT INTENDED FOR MEDICAL DIAGNOSTIC USE.
CLIA-LAB NASAL SWAB TEST:

PATHOGENDx SURVEILLANCE TEST:


Ease minds and protect students through a simple, affordable testing regimen.
In light of the pandemic, stepped up cleaning and sanitizing isn't enough. Environmental Monitoring is needed now—sampling surface swabbing on a regular basis for detection of the COVID-19 virus and other viruses. Monitor proactively, ease minds with a protocol that has benefits for schools and communities at this critical time.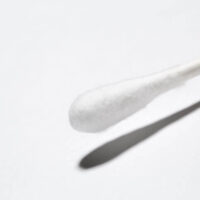 •
Advanced laboratory testing combined with best-in-class surface swab collection technology.
•
Easily test surfaces, door handles, desks, lockers and common areas.
•
Receive results within 6 hours and share with parents, teachers, students and staff.
•
Ensure rigorous disinfection of positive areas to minimize contamination and spread.

Case Story: Testing for an Entire Tribal Nation
PathogenDx Environmental Monitoring is now helping one of America's largest Native American nations to identify the virus in their environments and keep their members safe. Testing for the 140,000-member tribe has shown that 5-7% of the tests were positive, requiring additional cleaning protocols and giving them the ability to reduce the spread of the virus or the possible infection of others.
A screening protocol in four steps

1. Swabbing:
Each week, a new area is swabbed—surfaces, handles, etc—to provide an early warning that can inform prevention.

2. Send:
Samples to be sent to a recommended local lab for analysis. Shipping materials are provided for ease.

3. Test:
Samples are analyzed. If result is a positive, the school can be closed, areas sanitized and students and staff sent for individual tests.

4. Quarantine:
Those with positive results are isolated and quarantined. Classes can soon resume and the process repeated as needed.
Partner with PathogenDx to create the safety protocols that protect your school and people.
We have rapidly adapted our testing technology for a new era. Talk with our diagnostic experts to create the responses that protect your school.